Philagrafika 2010
Exhibition Catalogue
---
Spotlight on Invitational Portfolio Artist
Virgil Marti
Bunny Multiplication
Inkjet with rayon flock
25.5 x 19.5 inches
Printed by Silicon Gallery Fine Art Prints; 2001

Virgil Marti
Bunny Multiplication
Inkjet with rayon flock
25.5 x 19.5 inches
Printed by Silicon Gallery Fine Art Prints; 2001
Edition of 50
Bio

Virgil Marti uses dated conventions to make site-specific installations. He is interested in the relationships between art and interior decoration, "good" and "bad" taste, desire and sublimation, class and taste. Recognition of the roles personal experience and acculturation have played in the development of his style, in conjunction with an explicit handling of
personal content, has led Marti to create intimate installations and twisted versions of the wallpaper patterns that he grew up with in Middle America.
Marti had exhibited at the Institute of Contemporary Art, Boston; the Institute of Contemporary Art, Philadelphia; White Columns, New York; Holly Solomon Gallery, New York; and Habitat, London before featuring in the 2001 Philagrafika Invitational Portfolio. Since 2001, Marti has shown at the Arnolfini, Bristol; Galleria d'Arte Moderna, Bologna; Museum of Contemporary Art, Sydney; Whitney Biennial 2004; and the Elizabeth Dee Gallery, New York, among others.
Available from our on-line store HERE
June/July 2014
Candy Coated
Candy Coated
Sparkle Bit
Silkscreen with glitter sticker
15 x 11 inches
Printed by The Fabric Workshop and Museum; 2002 
Edition of 50
Bio
Candy Coated, (formerly Candy Depew) is known internationally for working in a broad expanse of genres: from sculpture and printmaking to film and installations. Her primary passions, however, are silkscreen printing and decorating. She is interested in the decorative uses of art, and the effect of material beauty on its environment. Through this study, which she calls "candycoateding", she aspires to elevate decoration to a fine art.

Candy received an Edna Andrade Grant for Emerging Artists, exhibited at the Borowsky Gallery, the Fleisher Art Memorial Challenge, and the Tyler School of Art, all in Philadelphia, before participating in Philagrafika's 2002 Invitational Portfolio. In 2002 she received a Pew Fellowship in the Arts and a Distinguished Alumni Award from her alma mater, the Tyler School of Art. Since her involvement with Philagrafika, she has continued to exhibit in Philadelphia: at the University of Pennsylvania Fine Arts Gallery, the Free Library of Philadelphia, Penn Charter School Biennial, The Philadelphia Art Alliance and the Leonard Pearlman Gallery. Additionally, Depew has since shown at the International Print Center, New York, NY; the European Ceramic Work Centre, the Netherlands. More recently her work has been featured at the Philadelphia Museum of Art with CandyCoated Wonderland and a 2014 Commission from the Association of Public Art titled Magic Carpet to be installed at Eakins Oval on the Benjamin Franklin Parkway in Philadelphia. 
You can learn more about Candy Coated from her website: 
candycoated.org
March 2014
Serena Perrone
In Our Cinematic Lives
Etching, aquatint and chine colle
15 x 18 inches
Printed by C.R. Ettinger Studios; 2008 
Edition of 20
Bio

Serena Perrone is best known for her print work, which often combines hand-drawn imagery and painting with layered printmaking techniques. It presents fictions grounded in realities of experience and consequently blurs the line between fact and fiction, past and present. Scenery becomes a theatrical space, strongly relaying emotions tied to time and space. Perrone's work is included in the permanent collections of the Yale University Art Gallery, the Cleveland Museum of Art, the Rhode Island School of Design Museum, the Philadelphia Museum of Art, the Library of Congress, and the Whitney Museum of American Art, among other public and corporate collections.

A graduate of the Rhode Island School of Design with a Master's Degree in Printmaking, Perrone's print work has been exhibited in numerous solo exhibitions including the List Gallery of Swarthmore College; the Contemporary Art Museum St. Louis, Cade Tompkins Projects, Providence; Ningyo Editions, Boston; RISD's Sol Koffler Gallery; the Center for Emerging Visual Artists, Philadelphia; and the University of Wyoming Art Museum, in Laramie. Recent two-person and group exhibitions include: the Philadelphia Museum of Art; the International Print Center New York; The Print Center, Philadelphia; David Krut Projects New York; Vox Populi Gallery, Philadelphia; the Massachusetts College of Art and Design, Smith College Museum of Art; SUNY Purchase; the Pennsylvania Academy of the Fine Arts; the Art League, Houston; the University of Texas at Austin; the Creative Alliance at the Patterson, Baltimore; Tiger Strikes Asteroid, Philadelphia; the Arlington Arts Center, Virginia; Woman Made Gallery, Chicago; the Walton Arts Center, Fayetteville, Arkansas; and the Delaware Center For Contemporary Arts, in Wilmington. She has received grants from the Pollock-Krasner Foundation, the Santo Foundation, the William J. Cooper Foundation, and the Vermont Studio Center.

In 2013 Serena visited Iceland and was featured in the 2014 Due North exhibit at the Icebox Project Space in Philadelphia. More information about Serena can be found here.

This print is available from our on-line store HERE
February 2014
Bruce Pollock
This Bruce Pollock print was also available at InLquid's benefit Vs14 for more information about Inliquid here.

Bruce Pollock

Alpha
Offset lithograph
25.5 x 19.5 inches
Printed by Borowsky Center for Publication Arts; 2001

Edition of 50 
Bio

Bruce Pollock is a longtime Philadelphia artist who is fond of pattern and all-over composition. His paintings present a glimpse into a world of infinite design and replication. These works draw the viewer's attention not to thepicture plane in front of them, but to the boundless universe beyond the frame, to which the art permits access. Pollock works in forms of geometry and fractals to achieve balanced mathematical works with implied references to the material worlds of nature, machinery, and energy. He has received a "Distinguished Artist" Award from the Philadelphia Museum of Art and aPennsylvania Council of the Arts grant.
Pollock has exhibited widely in his home city of Philadelphia, at venuesincluding the Philadelphia Museum of Art, the Pennsylvania Academy of Fine Art, the Institute of Contemporary Art, University of the Arts and Fleisher/Ollman Gallery. His work has also been displayed both nationallyand internationally at the Santa Monica Museum of Art; Allan Stone Gallery,New York; and Shenzhen Art Museum, Shenzhen, P.R. China, among others. He has been the recipient of a fellowship from the Pennsylvania Council on the Arts and a Pollock-Krasner Foundation Grant.
This print is available from our on-line store HERE
December 2013 / January 2014
Due North at the Crane
November 2013
Emily Brown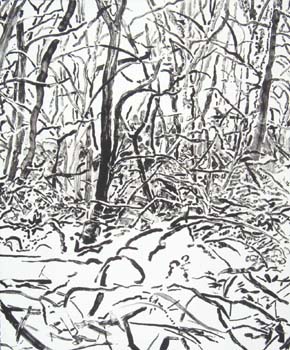 Emily Brown "An Early Thaw"
Lithograph
18 x 15 inches
Printed by Rutgers Center for Innovative Print and Paper; 2003
Edition of 50

Available from our on-line store
Emily Brown is a graduate of the School of the Museum of Fine Arts, MA and Pennsylvania Academy of the Fine Arts, PA.  She is well-known for her traditional landscapes inspired by the surroundings of her home outside Philadelphia, rural Maine, which she admires for its open skies and long views.  Brown's pieces examine nature as it is affected by man and as its appearance can be altered by human perception; she handles grand, universal concepts like aging, change, and freedom. 
Her work is included in the collections of the Philadelphia Museum of Art, the Pennsylvania Academy of the Fine Arts, the James A. Michener Art Museum, Philadelphia; a US Embassy; and the Print and Picture Collection, Free Library of Philadelphia.
Prior to the 2003 Philagrafika print, Brown exhibited at Philadelphia Museum of Art, Gallery Joe, and the Philadelphia International Airport, Philadelphia, and had received a Pew Fellowship in the Arts and an Award for Excellence for Works on Paper from the Leeway Foundation.  Since 2003, she has shown at the Baltimore Museum of Art; James A. Michener Museum, Doylestown, PA; Portland Museum of Art Biennial, Portland, ME; Kate Ganz USA Ltf, New York City; and the Woodmere Art Museum, Philadelphia. Her print work was displayed at the Print Center, Philadelphia and the Baltimore Fair for Contemporary Prints and New Editions in 2008, 2009, and 2010. 
More recent exhibtions include the Center for Maine Contemporary Art, The Female Gaze: Women Artists Making their World; The Linda Lee Alter Collection, Pennsylvania Academy of the Fine Arts, Philadelphia, Pa,
Texas Contemporary Art Fair, (Gallery Joe,) Houston, Texas
Transformations, Curated by Anne Minich, Philadelphia Cathedral, Philadelphia, PA
71st Annual Juried Exhibition, Alex Kanevsky, Curator, Woodmere Art Museum, Philadelphia, PA (Harrison Morris Prize for Watercolor)
Tree Huggers, Kenise Barnes Fine Art, Larchmont, NY
Multiple Encounters 2, Vijay Kumar and Nicholas Hill, Curators, Lalit Kala Akademi, New Delhi, India and Lalit Kala Akademi, Lucknow, Uttar Pradesh, India
Emily is represented in Philadelphia by Gallery Joe and her web site is at www.emilybrown.net