2010 Signature Edition Series

Philagrafika is proud to present a series of limited-edition prints and multiples by artists who participated in Philagrafika 2010. These special editions were unveiled throughout the three month festival (January 29 - April 11, 2010) and are available for purchase. Prints from this series are in the collections of the Metropolitan Museum of Art , Yale University Art Gallery and numerous private collections.

For more information on these editions please click on the links below. For inquiries or to make a purchase, please contact Rebecca Mott at rmott@philagrafika.org or 215-701-8057.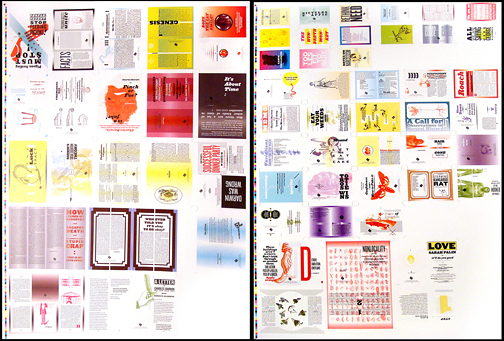 Lisa Anne Auerbach
The Tract House: A Darwin Addition (press sheet)
Edition size: 50
Medium/description: Set of 2 commercial offset prints on 20 lb Bond, press sheet for The Tract House project
Dimensions: 28 x 40 inches
(sold as a pair)
Eric Avery
Fourteen Infections of Adam and Eve
Edition size: 20
Medium/ description: Four color Chiaroscuro Print on Okawara Paper
Dimensions: 36 5/8 x 36 ¼ inches


Cannonball Press
The Bounding Billow - Reinterpreted by Cannonball Press, and Published in the Interest of the Olympia's Legacy
Edition Size: 450
Medium/description: 14 page letterpress book with softcover, pamphlet stitched binding.
Dimensions: 6 ¼ x 8 ¼ inches

Enrique Chagoya
The Headache,
A Print After George Cruikshank
Edition Size: 30
Medium/description: etching with digital chine collé, companion print: Offset lithograph
(offset edition: 700)
Dimensions: 15 x 22 inches

Óscar Muñoz
Ante la imagen (Confronting the Image)
Edition Size: 50
Medium/description: etched mirror with
portfolio box
Dimensions:
mirror- 4 ¼ x 6 inches
portfolio box- 8 x 10 inches

Orit Hofshi
If the Tread is an Echo
Edition size: 6
Medium/description: Woodcut on handmade Abaca & Kozo Paper, By Tut- Neyar paper mill, Israel, Dimensions:
39.4 x 78.7 inches
More...


Francesc Ruiz
Untitled(Magazine& Newspaper)
Edition of 2000 / 50 signed copies
Medium/description:Magazine assembled of 120 covers with companion newspaper
Dimensions: 8 x 10 ½ inches

More...

Regina Silveira
Pendent (silhouette)
Edition Size: 50
Medium/description: Metal hook, vinyl cutout
Dimensions: 29 x 7 inches