ABOUT
BIOS
SCHEDULE
EXHIBITION
PUBLICATION
PRESS
CREDITS
S


BIOS
ARTISTS

María Jesús González Fernández & Patricia Gómez Villaescusa
b. 1978 (both artists)
Live and work in Valencia, Spain.


This artistic partnership began while the artists were working towards Fine Arts degrees from the Facultad de Bellas Artes deValencia in 2002. Their work has been exhibited in numerous solo and group shows in Spain. They have won a number of grants and awards including, among others: the photography prize for El Cultural (2010), and first prize at Generación 2008 Caja Madrid Art Grants and Awards (2009), and a Generación 2007 artist grant (2007). Collections that house their work include Caja Madrid, DA 2 DOMUS ARTIUM Salamanca, the Polytechnic University of Valencia, the University of Sevilla, Caja Catilla-La Mancha, Bancaja, and El Mundo. Doing Time is González and Gómez's first project in the United States.

Past Work:
La casa desplegada (The House Unfurled), 2005
Gómez and González produced their first architectural prints in houses in the El Cabañal neighborhood of Valencia. The beautiful Modernist homes were slated for demolition and the artists felt inspired to preserve their walls. Pulling the top layer of paint from twelve interiors, the result was an enormous rolled print that measures 340 m long by 2 m high (about 1116 by 7 feet). Watch a video from this project (in Spanish) here: http://www.youtube.com/watch?v=wzLuguhKo2k
Proyecto para cárcel abandonada (Abandoned Prison Project), 2008-2009
Gómez and González's first prison-based project was at Valencia's century-old Modelo Prison. It has been out of use since 1993 and was being refurbished to serve as an administrative building at the time of the artists' intervention. They created large-scale imprints of the prison's walls that were covered in graffiti and messages. To provide a context for these 'prints' and to demonstrate their process they also produced photographic and video documentation.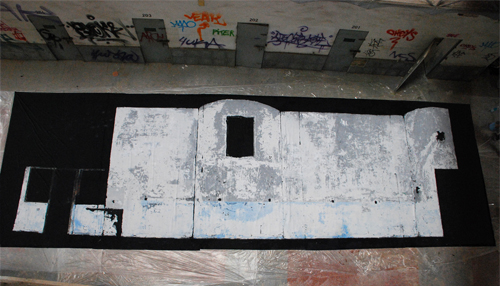 Projecte per a presó abandonada(Abandoned Prison Project), 2011
During their preparations for an exhibition of the Abandoned Prison Project at the Fundació Pilar i Joan Miró in Mallorca, the artists were presented with the opportunity to work in another prison in Palma. This time the institution was still in the process of being shut down and the artists were able to be on site during its final days along with the remaining seven inmates. They worked with these prisoners, recording their marks and graffiti instead of simply the anonymous traces of those who had left the site long ago.
CURATOR

José Roca was born in Barranquilla, Colombia, in 1962, and is based in Bogotá, Colombia. He graduated in architecture (Universidad Nacional de Colombia), specialized in Critical Studies (Whitney Independent Study Program, New York) and holds a master's degree in the Design and Administration of Cultural Buildings (Ecole d'Architecture Paris-Villemin, Paris).
For ten years, Roca ran the artistic programme at the Banco de La República, Bogotá, and transformed it into one of the most respected institutions on the Latin American circuit.
Roca was co-curator of these exhibitions, among others: 1st Poli/grafica Triennial in San Juan, Puerto Rico (2004); 27th São Paulo Biennial, Brazil (2006); Encuentro de Medellín MDE07 (2007); Cart[ajena] , urban interventions in Cartagena, Colombia (2007); Välparaíso, interventions in Valparaíso, Chile (2010); and he is currently chief curator of the 8 Bienal do Mercosul, scheduled to open in September 2011 in Porto Alegre, Brazil.
In 2007, he was a jury member for the 52nd Venice Biennale.
In 2010, Roca was the artistic director of Philagrafika 2010: The Graphic Unconscious – a festival of contemporary graphic art taking place in 2010 in various exhibition spaces in Philadelphia, USA. Among the other curatorial projects of José Roca are: Traces of Friday: art, tourism, displacement, ICA - Institute of Contemporary Art, Philadelphia, USA (2003); Botánica política, Sala Montcada, La Caixa, Barcelona, Spain (2004); Phantasmagoria: Espectros da Ausência, touring exhibition organised by iCI (Independent Curators International) and the Museo de Arte del Banco de la República (2007-009); Otras Floras, Galeria Nara Roesler, São Paulo, Brazil (2008); Muntadas: Mecanismos da Imagem, Pinacoteca do Estado de São Paulo, Brazil (2010); in 2011, Roca headed the curation of an exhibition of the Rio Grande do Sul artist Regina Silveira at the Iberê Camargo Foundation, in Porto Alegre/RS.
CONTRIBUTING ESSAYISTS

Jennie Hirsh is Assistant Professor of Modern and Contemporary Art in the Department of Art History, Theory and Criticism at the Maryland Institute College of Art. Prior to joining the faculty at MICA, she held postdoctoral fellowships at both Princeton and Columbia Universities, and her work has been supported by the U.S. Fulbright commission to Italy, the Gladys Krieble Delmas Foundation, and the Mrs. Giles Whiting Foundation. She is currently completing a monograph on Giorgio de Chirico, which focuses on his pictorial and literary self-representation, and her volume titled Contemporary Art and Classical Myth, co-edited with Isabelle Wallace, has just appeared with Ashgate Publishing. Her essays on Giorgio de Chirico, Giorgio Morandi, Jean-Luc Godard and Roberto Rossellini, Pipo Nguyen-Duy, Felix Gonzalez-Torres, Yinka Shonibare, Regina Silveira, and Michael Huey have appeared in scholarly volumes, academic journals, and museum catalogues, and she recently served as general editor for the catalogue Philagrafika 2010: The Graphic Unconscious.

Patricia S. Robertson is a printmaker and book artist who works primarily in monoprint. She has exhibited in Philadelphia, PA; Silver Springs, MD; Wilmington, DE; Baltimore, MD; as well as Birmingham, AL. Her undergraduate degree is from the Kansas City Art Institute in printmaking and she received her MFA from Tyler School of Art. She has been a resident at the Vermont Studio Center and at Penland School of Arts & Crafts. She has traveled to Los Angeles as a visiting artist to create monosilkscreens at SelfHelp Graphics. In addition she has been a Guide at the Philadelphia Museum of Art since 2003 and is currently coordinating the volunteer docents at Philagrafika for this exhibition. Go to Get Involved to learn more about volunteering.