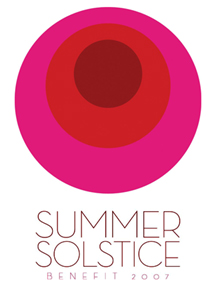 Held on Wednesday, June 20, 2007
A night of fine art prints, light fare and libations held in a private home in Philadelphia.
$300 per couple. The contribution of $300 or more enabled guests to select one print to take home. When guests arrived, they received a Print Choice card and were asked to write down the identification numbers of their favorite prints. Over 100 prints were displayed throughout the house! At the end of the evening, there was a drawing to see who went home with which print. All remaining prints are be available for purchase. All sales benefit Philagrafika.
Special Thanks to:
Featured Artists
Alyse Bernstein
Amze Emmons
Andrew Raftery
Anne Seidman
Astrid Bowlby
Ben Woodward
Bill Scott
Bobbie Adams
Bruce Pollock
Charles Long
Daniel Heyman
David Taffet
Diane Burko
Don Colley
Elizabeth Catlett
Ellie Brown
Emily Brown

Faith Ringgold
Fran Crum
Hachiro Iisuka
Hee Sook Kim
Janet Towbin
Jennifer Maghan White
Jill Bonovitz
Joan Snyder
Joyce Harris Mayer
Judy Gelles
June Wayne
Katie Baldwin
Linda Dubin Garfield
Madeline Adams
Margo Humphrey
Marilyn Holsing

Mark Pease
Matsumi Kanemitsu
Matt Neff
Miriam Schapiro
Pepon Osorio
Rebecca Hackmann
Rachel Zimmerman
Randell Enos
Richard Ryan
Robert DeNiro
Rona Cordish Satten
Sarah McEneaney
Serena Perrone
Sy Hakim
William Smith
Willie Cole

Summer Solstice Host Committee
Lori and Giovanni Cucchiaro
Dick and Happy Fernandez
Rhonda Grubbs
Ed Grusheski
Angela and Fred Hudson
Anne d'Harnoncourt
Ben Dineen and Dennis Hull
John Ittmann
Kathryn Casey and Deborah Willig
Martha and Marshall Ledger
Lorie Mertes
Mark Ansley and Peter Miller
Drs. Muriel and Leonard Moss
Caroline Wischmann and David Rasner
Diane Burko and Richard Ryan
Jill Sablosky
Kim Sajet
Bill Scott
Micki Stolker
Judith and Jonathan Stein
William Valerio and Glen Sacks
Harriet and Larry Weiss
Robert Brand and Liz Werthan
Corporate Sponsors and Contributors
Cozen O'Connor
C.R. Ettinger Studio
The Borowsky Center for Publication Arts, the University of the Arts
The Brodsky Center
The Print Center
Silicon Gallery Fine Art Prints
Solutions for Progress
Catering provided through a generous donation by Susan Burke
Summer Solstice design: Nicole Edmund, copyright 2007