Re:Print Re:Present Re:View - Artists
View the artist's project page
Back to the main project description page
Maria Magdalena Campos-Pons, artist
Maria Magdalena Campos-Pons is an artist who is very interested in the Diaspora of African descendants, as she herself was born in the Matanzas province of Cuba but now lives and works in the United States. Campos-Pons bears a familial history that is deeply intermingled with the sugar industryĺs presence in her hometown of La Vega. Her work is an open-ended and continually evolving investigation of history and memory, and their roles in the formation of identity.
Image: Artist Maria Magdalena during her residency for Re:Print at The Borowsky Center for Publication Arts, The University of the Arts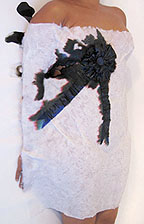 Berni Searle, artist
Berni Searle was born in 1964 in Cape Town. Best known for
producing film, video and lens-based media installations,
her work references ongoing explorations around history,
memory and heritage. In 2003 she was presented with the
Standard Bank Young Artist award and short-listed for the
first international Artes Mundi award in 2004. Solo exhibitions
include To love, to fear, to leave, which formed part of Performa05, NY, USA, Berni Searle. Video works at the
BildMuseet, Umeň, Sweden, About to forget at Michael
Stevenson, Cape Town and Presence at the Speed Museum
in Louisville, Kentucky, USA. Her recent solo exhibition Approach
was held at USF Contemporary Art Museum in Tampa, Florida, USA and the Johannesburg Art Gallery, Johannesburg, South Africa. Recent group exhibitions include The Eye Screen or The New Image at Casino
Luxembourg- Forum for Contemporary Art and Figuratively Speaking: The Figure in Contemporary Video Art at QUT Creative Industries Precinct, Brisbane. She is currently participating in Global Feminisms, the inaugural exhibition of the Elizabeth A. Sackler
Centre at the Brooklyn Museum, NY and will be participating in New Photography 2007 at the Museum of Modern Art in New York in September 2007.

Image: Artist Berni Searle- (Work in progress) an image being created for the Re:Print project
Rachid Kora´chi, artist
Born in Ain Beida, Algeria in 1947, Rachid Kora´chi now lives and works in Paris, France. His artistic training includes diplomas from the Higher Institute of Fine Arts in Algeria, the Superior National School of the Arts, the National School of Decorative Arts, and the School of Urban Studies in Paris. Kora´chi is a truly cosmopolitan artist who speaks to a universal audience with visions rooted in his own culture and situated within a global modernism. While his aesthetic is deeply rooted in his multicultural Algerian heritage, his art demonstrates a tremendous awareness of the most recent currents in the international contemporary art scene.

Image: Artist Rachid Kora´chi working in his studio on a drawing for the Re:Print project